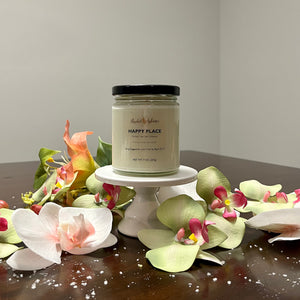 Happy Place
Regular price
$9.00
Sale price
$20.00
Unit price
per
Orchid, hibiscus, and sea salt. A refreshingly smooth scent with subtle floral notes. 

9 oz. jars are best for smaller bedrooms or bathrooms. 16 oz. jars are great for larger rooms and open spaces.
Burn time:
9 oz. jar - 18+ hours
16 oz. jar - 30+ hours
---
Share this Product
A scent to get lost in…
This is such a pleasant scent. I love the way it fills the space without being overwhelming . I couldn't think of a better name for this candle, it's what I think paradise would smell like.
This is my new favorite candle!!!
Happy Place has a good, balanced scent. It is really fragrant and is not overpoweringly floral, even though you can definitely smell the floral notes. It's really crisp and has replaced Mood Booster as my favorite candle scent!
Such a beautiful, pleasant scent !
This has just become my favorite candle. The scent is strong but not overpowering. The candle lives true to the name 'happy place'. I've been burning it for hours and can tell it's going to last a long time. It also came with such a cute hand written note!
Happy Place
I love this new scent!! It brings back memories from my childhood. I would definitely recommend it!!
---